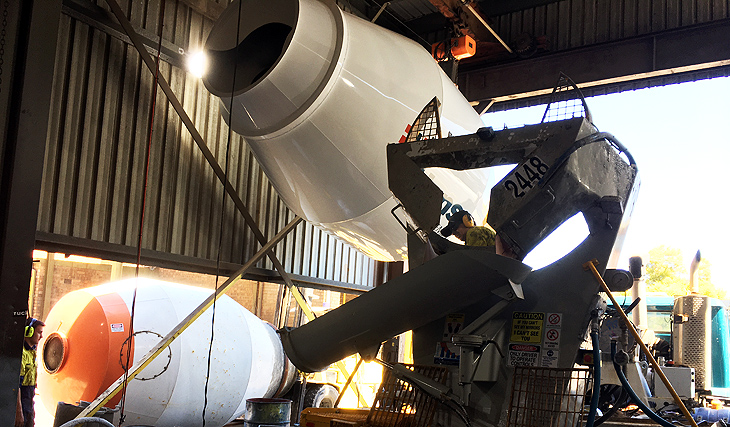 Davcron Engineering provides a full barrel removal and barrel replacement service including the maintenance of your barrel as well as the digital measurement of the skin width to determine if indeed the barrel should be replaced or can be repaired.
We stock all the standard sizes, including our 6.5mᶾ, 7.5mᶾ and 9.0mᶾ. If a new barrel is required on quick notice and with our painting department on site, we can supply a barrel in your company colours/logos very quickly. Our primary hold up can be awaiting company stickers to be added, which is out of our hands.
If a barrel is determined not able to be repaired, then we will scrap and dispose of it for you. If you want to keep the barrel as a replacement while you order a new barrel, we can organise storage of your old barrel for a nominal fee.
Once we have removed a barrel, whether to repair or replace, we offer a full service and make sure that the shroud assembly, trunnion rollers surrounds as well as the weight scales, that may have been added, are all cleaned and de-dagged prior to replacement of your old barrel or new barrel being fitted.
At Davcron as a minimum for our new barrels we use a 4mm K1042 high tensile alloy steel barrel with an 8mm dished end. There is also the option of a Hardox barrel, however this option is dependent upon the end-user and we do not recommend one over the other. However, Hardox barrels are more expensive due to the manufacturing process.
When a barrel comes in to be checked for quality and longevity, we use an ultrasound thickness indicator and have many points checked around the barrel to give us an overall picture of the barrel's thickness and the associated life left in the barrel.
At 2mm thick, and only half its life used, we will offer a complete re-blade and re-flight for the barrel. At 1.5mm, we will be recommending you to order a new barrel and at 1.2mm, the only option is to destroy the barrel as the chance for an environmental disaster is high.