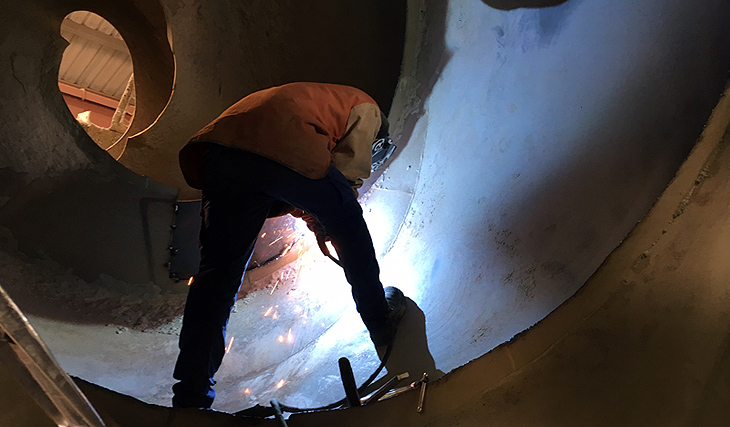 Reblade and Reflight - Industry Requirements
Prior to beginning any work inside a barrel, the person who is qualified to weld, inspect the barrel and test the internals MUST have a Certification for Working in Confined Spaces.
Initially we remove the hatch to the barrel, so we are able to inspect the internals of the barrel. You must make sure you have good ventilation and are wearing appropriate safety gear.
As a rule, if the flights have been worn down to half their size, then they need replacing. If the blades are thinning or feel a little tinny, then they also need to be replaced. Of course, if you replace the blades then the flights are also replaced.
Replacing blades and flights can only be done once in a barrel's life. When your blades and flights are assessed for a second replacement, then the barrel must be replaced as the skin would be too thin and an environmental disaster would not be far away.
We FULLY weld all our blades and flights, that's front, back, up and down!! For a professional evaluation of your blades and flights please call for a check up on (02) 9637 8186 or contact us and leave a message, so we can confirm a check-up for you.
Repairs - Our Full Service
Davcron offers a full mixer repair service on site at our Clyde workshops. We offer a variety of options for our services including a Minor and Major mechanical service as well as a full electrical service which can be found here.
We can rebuild, replace and repair every part on your mixer. We also stock a huge range of parts on site and many of our spare parts are actually pre-painted in your company's livery. Hoppers, chutes, extension chutes, placement chutes, some barrels are painted and ready to fit immediately on your company vehicle.
We can replace your barrel, trunnion rollers and de-dag the surrounds of your shroud and frame while you wait. We also offer an overnight de-dagging service, allowing you to not lose time or money. Drop off your mixer when you finish work and pick it up first thing in the morning when you start work.
If your barrel is stuck or has stopped working with a load, bring it in and we will get the barrel turning allowing you to discharge the concrete and not ruin the barrel. We also replace all hydraulic fluids and can check for cracks in the frame or issues anywhere else on the mixer that may potentially cause you a problem in the near future.
For a truly full service of your mixer, you cannot go past Davcron's quality workmanship and thoroughness.